Make Better Connections with CGConnect
Better
Results

for Your Business

You have goals, and the best way to achieve them is by making better connections with customers and creating more dynamic conversations with prospects. But how do you do that? You will find CGConnect perfectly suited to help you communicate more effectively, and efficiently, on an enterprise level. Most importantly, all this can be done while ensuring your brand is never compromised.
This is more than devices connecting to access data or your team's ability to collaborate from anywhere in the world. Connectivity is the essential fabric that enables productivity and ensures success!

Learn More About CGConnect
The CGConnect solution is a powerful browser-based customized storefront that provides your entire organization access to easily order diverse company items. Items include, but are not limited to, individualized company stationery, customized marketing brochures, regionalized sales collateral, promotional products & apparel, digital flipbooks and eblast campaigns.
The site is permission-based and can restrict users with specific budgets or shared summary view of spend. Secure user accounts are created for individuals and/or operational groups, each provided with assigned, self-registered, or single-sign-on credentials. Functionality access is tailored to your organization's specific needs; the accounting department given access to the comprehensive reporting dashboard; marketing group can interact and create content with templates; and the site manager is given adminstrative access to oversee activity.
This flexible solution offers additional functionality with API integrations to expand service or to integrate with existing company systems. Print/promotional product warehousing is available to make fulfilling orders efficiently and streamline the entire procurement process.

A platform that integrates seamlessly within your business operations, and can help you reach ambitious goals amidst a demanding marketplace… CGConnect!
View Screenshots of CGConnect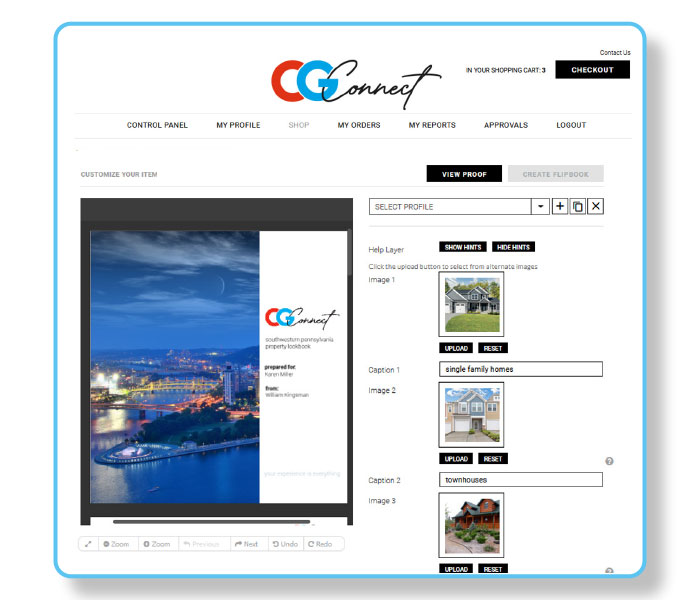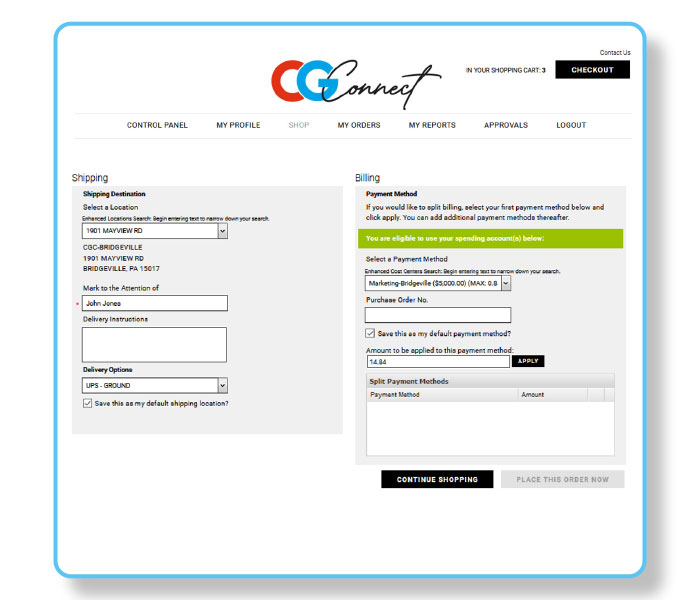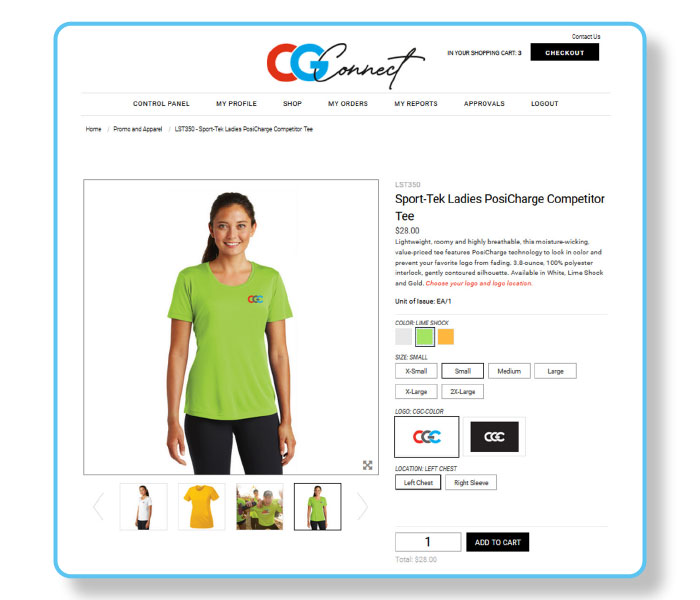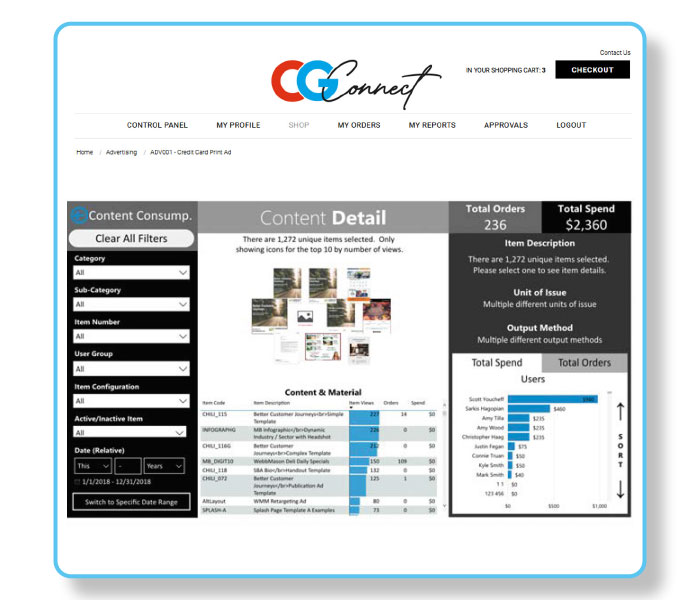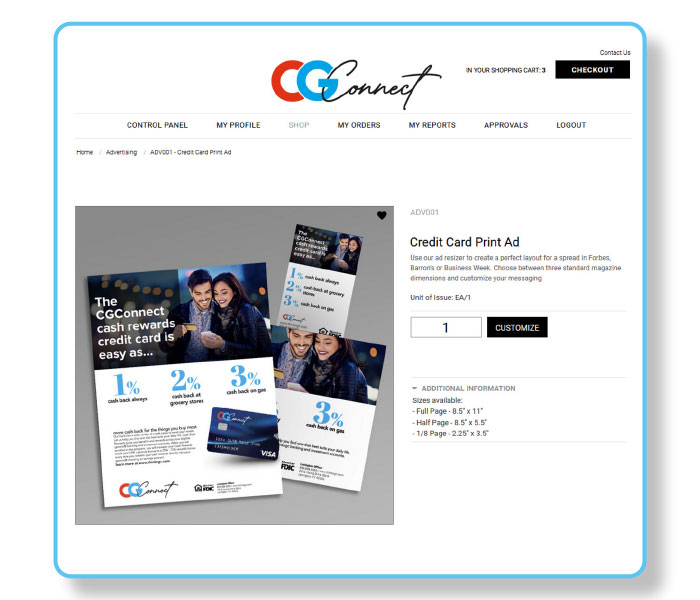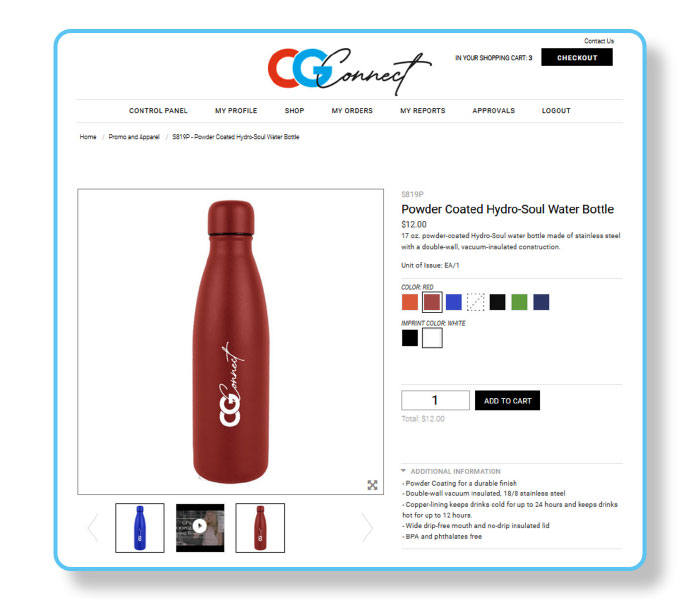 The trust, value and inspiration developed between you and your audience is held in high regard, and we realize the importance of your brand messaging objectives.

Manage Your
Brand

and

Message

Driving sales initatives with creative messaging can push the boundaries and also degrade the company's brand with misuse of content. Regardless of the multitude of marketing channels and diversity of brand messaging, CGConnect places proper content in the hands of users while enforcing business rules, asset management, and approval workflows. Simply, our platform allows end-users robust flexibility, while maintaining your brand… consistently.

The ability to craft a message focused specifically to one individual, and create a rewarding marketing experience just became easier!
Personalize

Your Communication

Whether your communication will be delivered internally throughout your organization, or marketing messages delivered to a potential customer, CGConnect offers a toolset to connect with precision. Our platform offers a best in class editor for effective content creation through templates, business rules, and asset selection to deliver a unique message.

Print, email, social media, and mobile messages can utilize and share profile data seamlessly between catalogs of items. This gives you the ability to efficiently produce operations or marketing collateral exclusively for a department or division, right at your fingertips.
To increase efficiencies and ensure brand compliance, connecting the right digital asset to the proper team member is essential.

Digital Asset Management
CGConnect is augmented with a Digital Asset Management (DAM) system that manages access to company approved logos & graphics, fonts, and product images and enables creative collaboration. Our system supports a wide variety of compatible digital formats, allowing users to create freely within each customizable template. User restrictions, if needed, can easily be applied to groups to ensure proper usage and reduce search time locating necessary assets for project.

Through social media, website, or email, digital marketing strategies will make a significant difference in your company's marketability.
Manage Digital Content with
Competence
Transmission of digital messages are instantaneous. Having the toolset to not only create digital content, but to approve, and to deliver on the spot is imperative in today's marketplace. Don't settle for basic customization. Give your users the best experience possible with instant preview, dynamic actions, thumbnail asset selection, and in‑place editing.
Our platform allows you to smoothly repurpose your message in a variety of digital deployments like an interactive PDF, email distribution, or even engage the recipient with a digital flip book.